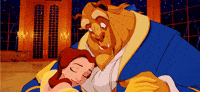 I was nominated by the wonderful Kalina @ Kalina Reads for this award. If you have not checked out her blog yet please do. Beauty and the Beast was my absolute favorite Disney movie when I was little.
Tale as Old as Time | A Popular Theme, Trope, or Setting You Will Never Get Bored of Reading
I could read Hate to love books forever.
Belle | A Book You Bought for Its Beautiful Cover That's Just as Beautiful on the Inside Too
That Inevitable Victorian Think by E.K. Johnson
Gaston | A Book Everyone Loves That You Don't
Children of Blood and Bone by Tomi Adeyemi
Lefou | A Loyal Sidekick You Can't Help But Love More Than Their Counterpart
Primrose in the Custard Protocol Series by Gail Carriger.
Mrs. Potts, Chip, Lumiere, and Cogsworth | A Book That Helped You Through a Difficult Time or Taught You Something Valuable
I know this sounds Cliche, but Harry Potter.
Something There | A Book or Series You Weren't Into at First But Picked Up Towards the End
Not sure.  If I do not like the fist book in the series I tend not to continue reading it.
Be Our Guest | A Fictional Character You'd Love to Have Over for Dinner
Audrey Rose and Thomas Cresswell from the Stalking the Jack the Ripper Series.
Follow me on other platforms:
Twitter | Instagram | Goodreads | Bloglovin | Facebook