Good Afternoon Everyone! It's Halloween!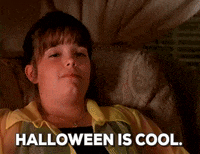 So where I am working now we get x amount of holidays and then we get to choose a holiday to take from a list.  Yep, I take Halloween.
So October seems to have just flown by in the blink of an eye.  Yes, that may be due to me running around like crazy. Really my daughter has to be somewhere after school every day. So that is when I read. If any of you follow me on Instagram you have seen how I spend the non-raining football games. My daughter is in the band so I only have to pay attention during halftime and pre-game.
When I am not running around for that she is also in the orchestra.
So I was looking at what I read in September and October and I could not figure out why my reading had gone down so much from July and August.  Well, I keep needing to remind myself that I am much busier now that school is in full swing. And I should be happy if I just read one book. So that is something that I am working on. Just being happy with what I can accomplish and not focusing on what I didn't. I know this seems like a simple concept but I am truly my own worst enemy.
But you are not here to hear me ramble about all of that you are here to see what I read this month so here we go!
I finished 10 books this month and DNF'd 2.
Books Read
The Strange Case of the Alchemist's Daughter by Theodora Goss
5 Stars
Add to Goodreads
The Price Guide to the Occult by Leslye Walton
4 Stars
Add to Goodreads
Brisingr by Christopher Paolini
4 Stars
Add to Goodreads
The Lady's Guide to Petticoats and Piracy by Mackenzi Lee
4 Stars
Add to Goodreads
Waistcoats & Weaponry by Gail Carriger
5 Stars
Add to Goodreads
Pride and Prejudice and Mistletoe by Melissa de la Cruz
2 Stars
Add to Goodreads
Girl at the Grave by Teri Bailey Black
4 Stars
Add to Goodreads
Pride and Prejudice by Jane Austen
5 Stars
Add to Goodreads
Monstress Vol. 1: Awakening
5 Stars
by Marjorie M. Liu and Sana Takeda
Add to Goodreads
Lethal White by Robert Galbraith
5 Stars
Add to Goodreads
Books DNF'd
Mem by Bethany C. Morrow
DNF
Add to Goodreads
Sharp Objects by Gillian Flynn
DNF at 57%
Add to Goodreads
Well, that wraps up this month.
How was your reading this month?
Follow me on other platforms:
Twitter | Instagram | Goodreads | Bloglovin | Facebook