Flame in the Mist by Renée Ahdieh
Fantasy, Retelling, Young Adult, Romance
Add to Goodreads
Synopsis
The only daughter of a prominent samurai, Mariko has always known she'd been raised for one purpose and one purpose only: to marry. Never mind her cunning, which rivals that of her twin brother, Kenshin, or her skills as an accomplished alchemist. Since Mariko was not born a boy, her fate was sealed the moment she drew her first breath.

So, at just seventeen years old, Mariko is sent to the imperial palace to meet her betrothed, a man she did not choose, for the very first time. But the journey is cut short when Mariko's convoy is viciously attacked by the Black Clan, a dangerous group of bandits who've been hired to kill Mariko before she reaches the palace.
The lone survivor, Mariko narrowly escapes to the woods, where she plots her revenge. Dressed as a peasant boy, she sets out to infiltrate the Black Clan and hunt down those responsible for the target on her back. Once she's within their ranks, though, Mariko finds for the first time she's appreciated for her intellect and abilities. She even finds herself falling in love—a love that will force her to question everything she's ever known about her family, her purpose, and her deepest desires.
What I thought
Let's get down to business to defeat The Huns.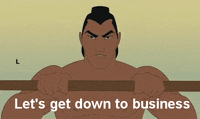 So this is literally what has been playing in my head since I finished this book I'm not complaining because I love Mulan.
This is a loose Mulan retelling that takes place in Japan.
I am really glad that I waited so long to read this book when it first came out there was a lot of hate because people expected a strict Mulan retelling. This story takes place in Japan so the culture is very different than the movie since it takes place in mainland China. I think that this might be why people felt let down by the retelling aspect.
The Mulan essence lives in our main character Mariko. Due to actions out of her control, Mariko has to dress like a boy to survive. Mariko fights for what she feels is right no matter the cost. Also, we have the hate to love trope that we all know I am such a sucker for.
There are some big thing that happens at the end of this book that really has me on the edge of my seat to see what happens. This book is told from a few different perspectives that should all come together in the Smoke in the Sun. Well, at least I really hope they do.
I am going to read the two short stories that came in between books 1 and 2. And just in case you did not know this but they appear to be free on Amazon.
This story is part of the duology so I'm super excited to pick up the second installment.
My Rating: /5
Follow me on other platforms:
Twitter | Instagram | Goodreads | Bloglovin | Facebook